Living Our Lives in Ascetic Struggle
Christianity is a religion of asceticism, instructing us to store up our treasures in heaven, where the benefits have eternal value. Throughout the New Testament we read of the importance of struggle, where focus on the acquisition of a humble and contrite heart is paramount to what it means to be a Christian. The Lord Jesus Christ tells us that if we are to be worthy of Him, we must be willing to take up our cross and follow Him. We are to be a people whose true homeland is Christ's Kingdom, which is within. Christ Himself calls us to holiness, and this change of heart can only be brought about through struggle.
Our world places a great deal of emphasis on being comfortable, and we tend to avoid anything that does not bring pleasure. If being open about our Christian faith invites ridicule, we remain silent. If keeping the fasting rules of the Church prevents us from enjoying evenings out with our friends, we ignore the fast. If voicing disapproval when hearing our Christian faith being trashed makes us appear less cool, we choose to go the route of the politically correct. Is it any wonder we are therefore unprepared to stand firm when faced with real trials that come our way, having avoided the very things that would transform us into strong, committed Christians?
If we embrace Christianity with dedication of heart and mind, we will receive the power to live in this world, filled as it is, with temptations and disappointments, yet remaining true to our vocation as a holy people. Committing ourselves to being full time Christians, empowers us to live our lives in such a way that we give glory and witness to the very Christ Whom we worship.
If, however, we avoid ascetic struggle, and choose to keep our Christian faith sidelined, and reject real commitment, we will ultimately have  become Christian in name only. For those who, out of laziness or personal selfishness, choose to relegate fasting, private prayer, and even church attendance, as something done only when we feel "in the mood", we will stand before the Throne of God, in the end, with a darkened heart that can not withstand the power of God, and eternity will be for us, a lake of fire.
With love in Christ,
Abbot Tryphon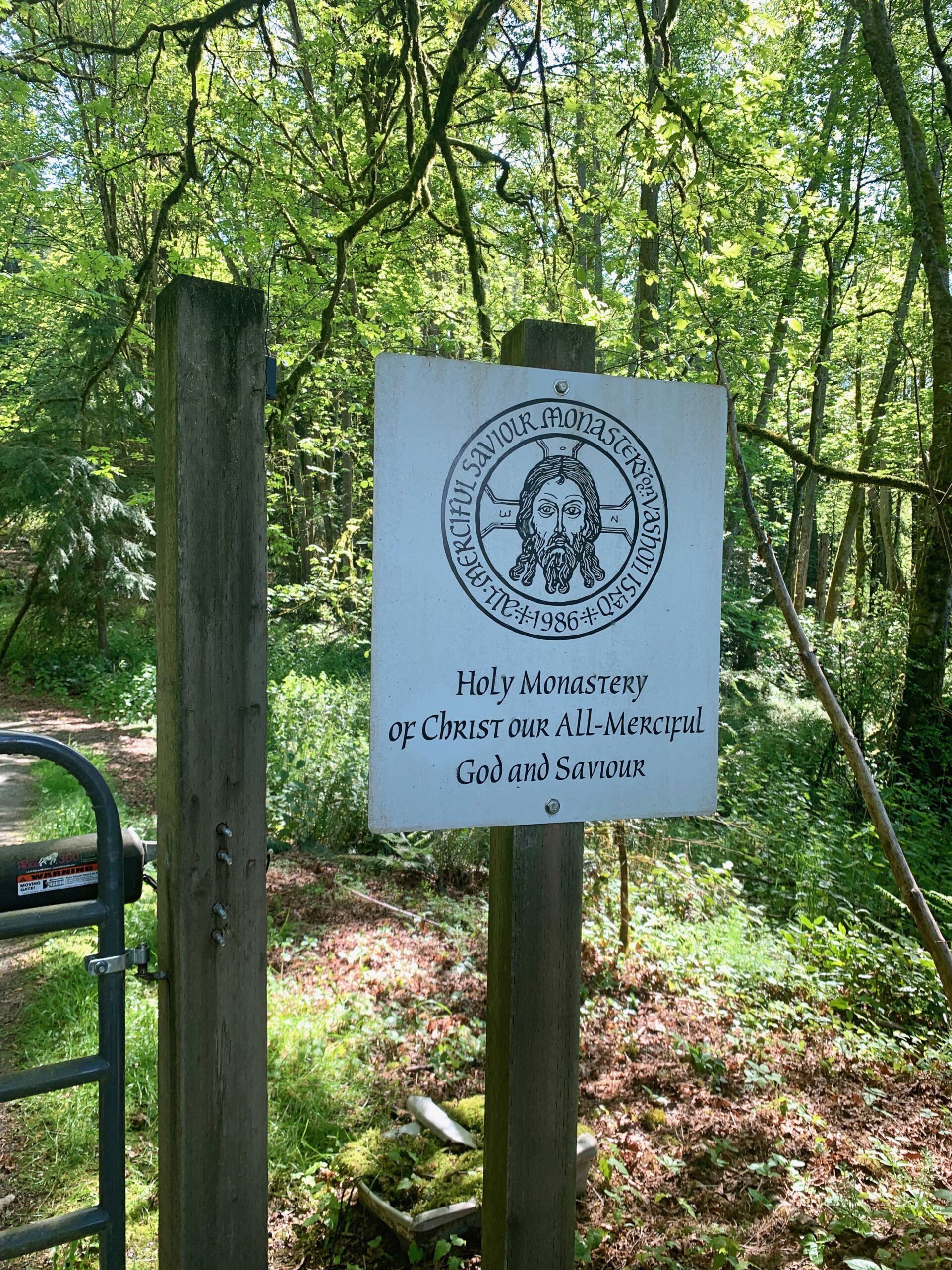 Photos: The entrance to the monastery.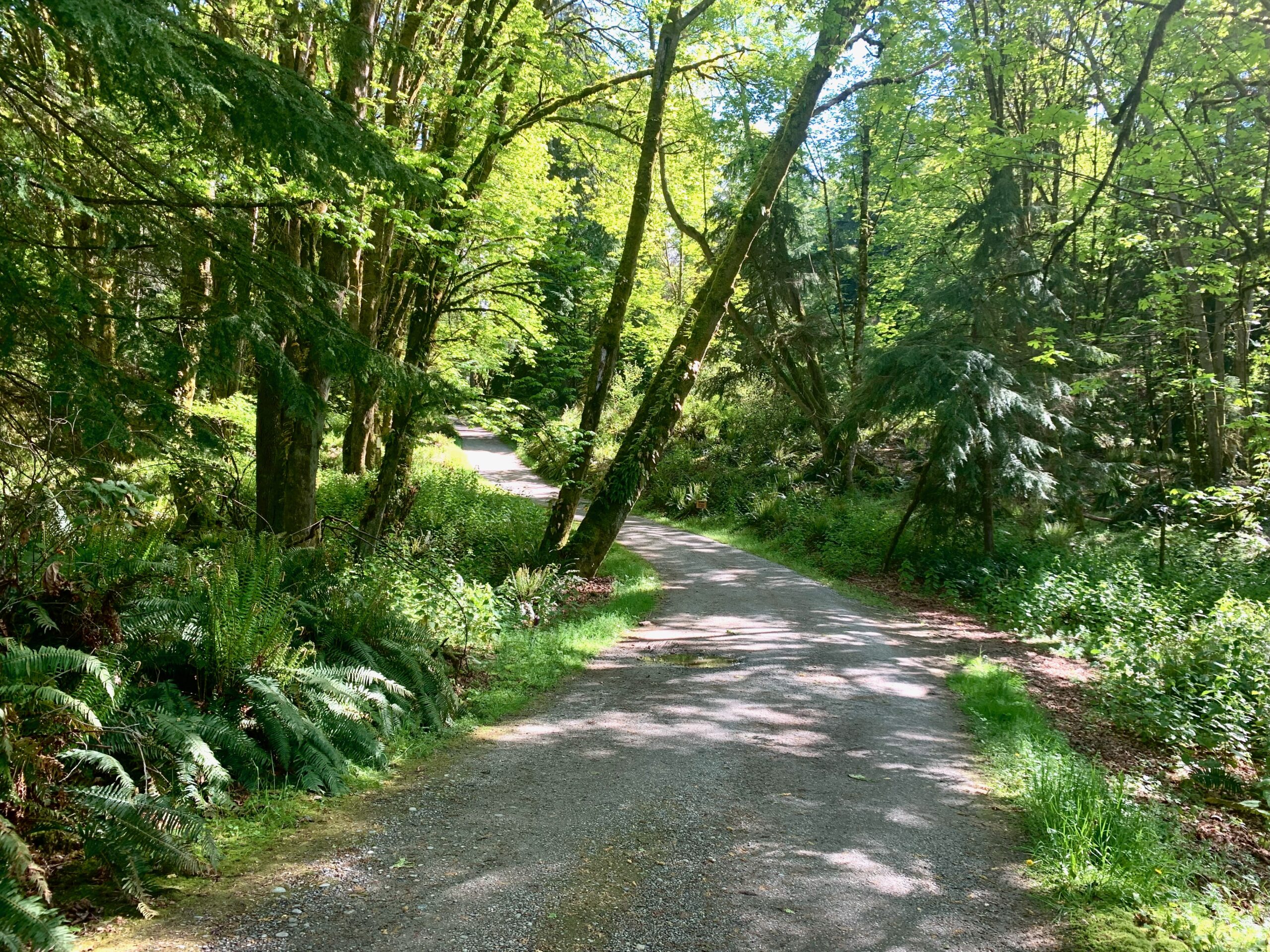 Tuesday May 10, 2022 / April 27, 2022
Third Week of Pascha. Tone two.
Hieromartyr Symeon the Kinsman of the Lord (107).
New Hieromartyrs Paul and John priests, Martyrs Peter, Nicholas, Auksentius, Sergius and Virgin-martyr Anastasia (1922).
Virgin-martyr Mary (1938).
New Hieromartyr John priest (1941).
Venerable Stephen, abbot of the Kiev Caves and bishop of Vladimir in Volhynia (1094).
St. Eulogius the Hospitable of Constantinople (6th c.).
Venerable John, abbot of Cathares Monastery at Constantinople (832).
Venerable Simeon the New Stylite of Cilicia.
New Hieromartyr Seraphim, bishop of Phanar (1601).
Burning of the relics of Venerable Sava I of Serbia by the Turks (1595).
New Martyr Elias (Ardunis) of Mt. Athos (1686) (Greek).
St. Pollion the Reader of Cibalis in Pannonia (306).
St. Nicon, abbot of the monastery of St. Gerasimus (6th c.).
St. Floribert, bishop of Luik (746) (Neth.).
Holy Martyrs Poplionus and Lollionus the New.
St. Machalus, bishop of the Isle of Man.
The Scripture Readings
Acts 8:5-17
5 Then Philip went down to the city of Samaria and preached Christ to them. 6 And the multitudes with one accord heeded the things spoken by Philip, hearing and seeing the miracles which he did. 7 For unclean spirits, crying with a loud voice, came out of many who were possessed; and many who were paralyzed and lame were healed. 8 And there was great joy in that city.
The Sorcerer's Profession of Faith
9 But there was a certain man called Simon, who previously practiced sorcery in the city and astonished the people of Samaria, claiming that he was someone great, 10 to whom they all gave heed, from the least to the greatest, saying, "This man is the great power of God." 11 And they heeded him because he had astonished them with his sorceries for a long time. 12 But when they believed Philip as he preached the things concerning the kingdom of God and the name of Jesus Christ, both men and women were baptized. 13 Then Simon himself also believed; and when he was baptized he continued with Philip, and was amazed, seeing the miracles and signs which were done.
The Sorcerer's Sin
14 Now when the apostles who were at Jerusalem heard that Samaria had received the word of God, they sent Peter and John to them, 15 who, when they had come down, prayed for them that they might receive the Holy Spirit. 16 For as yet He had fallen upon none of them. They had only been baptized in the name of the Lord Jesus. 17 Then they laid hands on them, and they received the Holy Spirit.
John 6:27-33
27 Do not labor for the food which perishes, but for the food which endures to everlasting life, which the Son of Man will give you, because God the Father has set His seal on Him."
28 Then they said to Him, "What shall we do, that we may work the works of God?"
29 Jesus answered and said to them, "This is the work of God, that you believe in Him whom He sent."
30 Therefore they said to Him, "What sign will You perform then, that we may see it and believe You? What work will You do? 31 Our fathers ate the manna in the desert; as it is written, 'He gave them bread from heaven to eat.' "
32 Then Jesus said to them, "Most assuredly, I say to you, Moses did not give you the bread from heaven, but My Father gives you the true bread from heaven. 33 For the bread of God is He who comes down from heaven and gives life to the world."
1 Corinthians 4:9-16
9 For I think that God has displayed us, the apostles, last, as men condemned to death; for we have been made a spectacle to the world, both to angels and to men. 10 We are fools for Christ's sake, but you are wise in Christ! We are weak, but you are strong! You are distinguished, but we are dishonored! 11 To the present hour we both hunger and thirst, and we are poorly clothed, and beaten, and homeless. 12 And we labor, working with our own hands. Being reviled, we bless; being persecuted, we endure; 13 being defamed, we entreat. We have been made as the filth of the world, the offscouring of all things until now.
Paul's Paternal Care
14 I do not write these things to shame you, but as my beloved children I warn you. 15 For though you might have ten thousand instructors in Christ, yet you do not have many fathers; for in Christ Jesus I have begotten you through the gospel. 16 Therefore I urge you, imitate me.
Matthew 13:54-58
54 When He had come to His own country, He taught them in their synagogue, so that they were astonished and said, "Where did this Man get this wisdom and these mighty works? 55 Is this not the carpenter's son? Is not His mother called Mary? And His brothers James, Joses, Simon, and Judas? 56 And His sisters, are they not all with us? Where then did this Man get all these things?" 57 So they were offended at Him.
But Jesus said to them, "A prophet is not without honor except in his own country and in his own house." 58 Now He did not do many mighty works there because of their unbelief.