God's Love Consumes All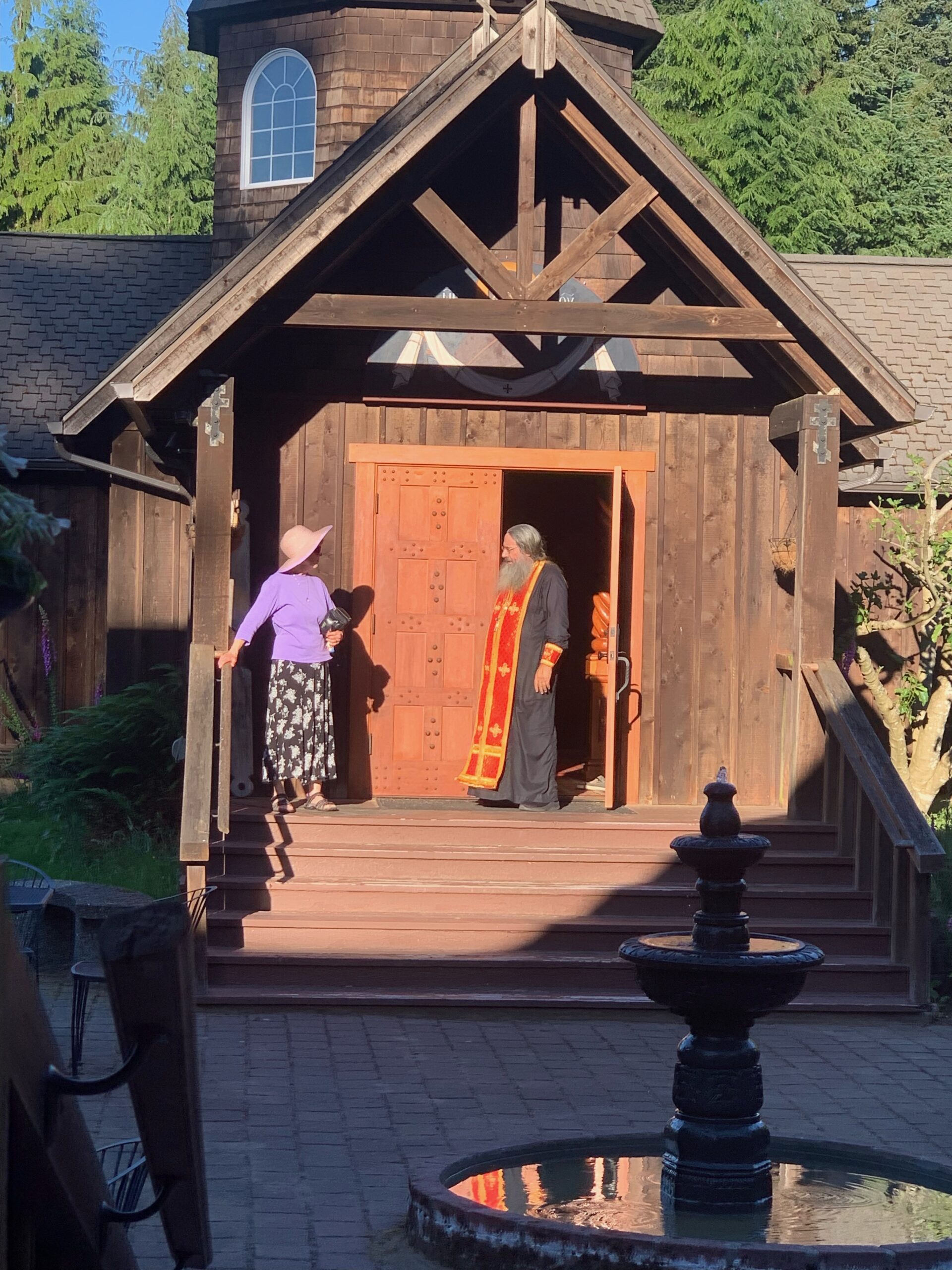 It is good to remember that in Orthodox teaching, heaven and hell are not about places, but about relationships. God is everywhere, and He did not create a heaven for some, and a hell for others. We choose how we will experience the presence of God in the afterlife. God can not be absent from anywhere, and those who have chosen, in this life, to ignore God, will, nevertheless, be in His presence for all of eternity.
At the age of sixty-six (I can't believe I'm this old), I'm beginning to see a thinning in the ranks of my friends. I've lost a number of close friends, a few younger than myself, as well as both my parents. I've also lost relatives whom I dearly loved, and although my faith has been a very important part of my life since early childhood, I'm aware that some of those whom I've lost to death, were not people who placed any importance whatsoever to having a relationship with God.
Although some of my Evangelical friends would hold to the view that anyone who has not committed their life to Christ, will be damned, I am personally comforted with the knowledge that God is a loving, compassionate, and merciful God, and that He desires all be saved. I rely on His mercy, and I trust in His ever abiding love. There is comfort in knowing His mercy even extends to those who've ignored Him. I believe God will take into account the hearts of those who have not placed Him as the center of their lives, and that if they love others, and put others before self, God will take that into account.
God's love permeates the cosmos, and some experience His presence as blissful joy, while others experience His presence as a burning fire, and as emptiness. As to how we will feel about those whom we've loved in this life, but who have entered eternal life without a relationship with God, we can not know. We do know the prayers of the saints are heard by God, and are a comfort and support to even those who've died in a state of estrangement. We also know that our loving God hears our prayers, and that our intercessory prayers bring comfort to even those who have passed this life without having developed a relationship with God. Our role as intercessors is just as important as that of the saints, and if I must take my neighbor's salvation as seriously as my own.
All this being said, I am not a proponent of the idea of universal salvation. I am simply sharing my heartfelt gratitude for a personal God Who has been merciful to me, a sinful and unworthy monk of over forty years.
Love in Christ,
Abbot Tryphon
Friday July 1, 2022 / June 18, 2022
3rd Week after Pentecost. Tone one.
Apostles' (Peter & Paul) Fast. By Monastic Charter: Strict Fast (Bread, Vegetables, Fruits)
Martyr Leontius, and with him Martyrs Hypatius and Theodulus, at Tripoli in Syria (73).
New Hieromartyrs Nicanor, Basil, Alexander, Basil and Sergius priests (1938).
Uncovering of the relics of St. Victor confessor, bishop of Glazov (1997).
Venerable Leontius, canonarch of the Kiev Caves (14th c.).
"Bogoliubov" (1157) Icon of the Most Holy Theotokos.
Reverence list of an "Bogoliubov" Icon of the Most Holy Theotokos: "Zimarovsky" (13th c.), Moscow (1157), "Uglich" and "Iur'evsk".
The Meeting of the "Piukhtinsk" ("At the Source") Icon of the Most Holy Theotokos (1946).
Venerable Leontius, clairvoyant of Dionysiou Monastery, Mt. Athos (1605).
Martyr Aetherus of Nicomedia (305).
St. Marina the Virgin of Bithynia (8th c.).
Finding of the relics (1997) of New Hieromartyr Victor, bishop of Glazov (1934).
St. Erasmus, monk (Greek).
St. Leontius the Shepherd, monk (Greek).
The Scripture Readings
Luke 1:39-49
Mary Visits Elizabeth
39 Now Mary arose in those days and went into the hill country with haste, to a city of Judah, 40 and entered the house of Zacharias and greeted Elizabeth. 41 And it happened, when Elizabeth heard the greeting of Mary, that the babe leaped in her womb; and Elizabeth was filled with the Holy Spirit. 42 Then she spoke out with a loud voice and said, "Blessed are you among women, and blessed is the fruit of your womb! 43 But why is this granted to me, that the mother of my Lord should come to me? 44 For indeed, as soon as the voice of your greeting sounded in my ears, the babe leaped in my womb for joy. 45 Blessed is she who believed, for there will be a fulfillment of those things which were told her from the Lord."
The Song of Mary
46 And Mary said:
"My soul magnifies the Lord,
47 And my spirit has rejoiced in God my Savior.
48 For He has regarded the lowly state of His maidservant;
For behold, henceforth all generations will call me blessed.
49 For He who is mighty has done great things for me,
And holy is His name.
Luke 1:56
56 And Mary remained with her about three months, and returned to her house.
Romans 9:6-19
Israel's Rejection and God's Purpose
6 But it is not that the word of God has taken no effect. For they are not all Israel who are of Israel, 7 nor are they all children because they are the seed of Abraham; but, "In Isaac your seed shall be called." 8 That is, those who are the children of the flesh, these are not the children of God; but the children of the promise are counted as the seed. 9 For this is the word of promise: "At this time I will come and Sarah shall have a son."
10 And not only this, but when Rebecca also had conceived by one man, even by our father Isaac 11 (for the children not yet being born, nor having done any good or evil, that the purpose of God according to election might stand, not of works but of Him who calls), 12 it was said to her, "The older shall serve the younger."13 As it is written, "Jacob I have loved, but Esau I have hated."
Israel's Rejection and God's Justice
14 What shall we say then? Is there unrighteousness with God? Certainly not! 15 For He says to Moses, "I will have mercy on whomever I will have mercy, and I will have compassion on whomever I will have compassion." 16 So then it is not of him who wills, nor of him who runs, but of God who shows mercy. 17 For the Scripture says to the Pharaoh, "For this very purpose I have raised you up, that I may show My power in you, and that My name may be declared in all the earth."18 Therefore He has mercy on whom He wills, and whom He wills He hardens.
19 You will say to me then, "Why does He still find fault? For who has resisted His will?"
Matthew 10:32-36
Confess Christ Before Men
32 "Therefore whoever confesses Me before men, him I will also confess before My Father who is in heaven. 33 But whoever denies Me before men, him I will also deny before My Father who is in heaven.
Christ Brings Division
34 "Do not think that I came to bring peace on earth. I did not come to bring peace but a sword. 35 For I have come to 'set a man against his father, a daughter against her mother, and a daughter-in-law against her mother-in-law';36 and 'a man's enemies will be those of his own household.'
Matthew 11:1
John the Baptist Sends Messengers to Jesus
11 Now it came to pass, when Jesus finished commanding His twelve disciples, that He departed from there to teach and to preach in their cities.
Philippians 2:5-11
The Humbled and Exalted Christ
5 Let this mind be in you which was also in Christ Jesus, 6 who, being in the form of God, did not consider it robbery to be equal with God, 7 but made Himself of no reputation, taking the form of a bondservant, and coming in the likeness of men. 8 And being found in appearance as a man, He humbled Himself and became obedient to the point of death, even the death of the cross. 9 Therefore God also has highly exalted Him and given Him the name which is above every name, 10 that at the name of Jesus every knee should bow, of those in heaven, and of those on earth, and of those under the earth, 11 and that every tongue should confess that Jesus Christ is Lord, to the glory of God the Father.
Luke 10:38-42
Mary and Martha Worship and Serve
38 Now it happened as they went that He entered a certain village; and a certain woman named Martha welcomed Him into her house. 39 And she had a sister called Mary, who also sat at Jesus' feet and heard His word. 40 But Martha was distracted with much serving, and she approached Him and said, "Lord, do You not care that my sister has left me to serve alone? Therefore tell her to help me."
41 And Jesus answered and said to her, "Martha, Martha, you are worried and troubled about many things. 42 But one thing is needed, and Mary has chosen that good part, which will not be taken away from her."
Luke 11:27-28
Keeping the Word
27 And it happened, as He spoke these things, that a certain woman from the crowd raised her voice and said to Him, "Blessed is the womb that bore You, and the breasts which nursed You!"
28 But He said, "More than that, blessed are those who hear the word of God and keep it!"