Responding To God's Love Casts Aside All Estrangement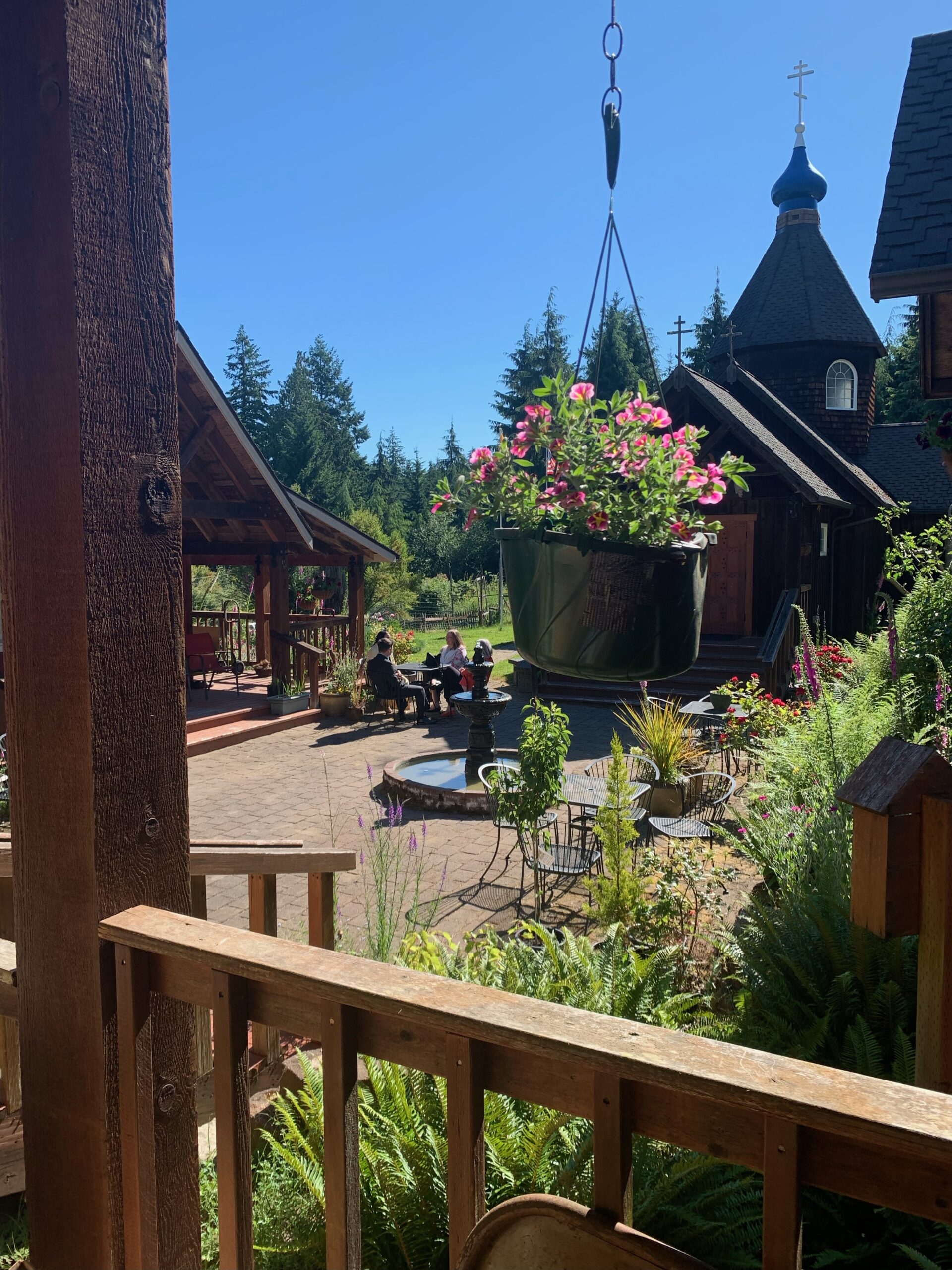 When we feel estranged from God it is a true sign we are in need of working more diligently on building up our faith. Faith is a gift from God that requires our cooperation and when we are feeling dry we must quickly turn our eyes to Christ, asking him to fill the void and quicken our belief. Our cooperative response begins when we commit to increasing our time in prayer, both corporate and in private. The corporate prayer of the Church brings us into contact with the Holy Mysteries, which in turn feeds our souls.
The hearing of God's Word and the partaking of the Lord's Body and Blood, together with a repentant heart, push aside the estrangement and open the door to a deepening faith. Like the spouse who responds to the touch of her husband, so too does our soul respond to the love of God and our faith comes alive by the power of the Holy Spirit.
A woman whose husband never tells of his love will feel her love diminish, whereas the husband who tenderly expresses his love for his wife will see the rebuilding of a relationship that began with love and passion. Our soul, as well, responds to our tenderly expressed love of God and sees love of Christ increase and faith restored to a state of blissful vigor, with all estrangement cast aside.
With love in Christ,
Abbot Tryphon
Tuesday June 28, 2022 / June 15, 2022
3rd Week after Pentecost. Tone one.
Apostles' (Peter & Paul) Fast. Fish Allowed
St. Jonah, metropolitan of Moscow (1461).
Prophet Amos (8th c. B.C.).
New Hieromartyr Amos priest (1919).
St. Michael, first metropolitan of Kiev (992).
Venerables Gregory and Cassian, abbots of Avnezh (Vologda) (1392) (translation of the relics, 1524).
Martyrs Vitus, Modestus, and Crescentia at Lucania (303).
Martyr Dulas of Cilicia (305-313).
Venerable Dulas the Passion-bearer of Egypt.
Venerable Jerome (Hieronymus) of Stridonium (420).
Translation of the relics (9th c.) of Theodore the Sykeote (613).
Great-martyr Tsar Venerable Lazar of Serbia (1389).
St. Ephraim, patriarch of Serbia (1400).
Blessed Augustine, bishop of Hippo (430), and his mother Monica (387).
Voronin Icon of the Most Holy Theotokos (1518).
Venerable Orsiesius of Tabenna, disciple of St. Pachomius the Great (368-380).
Virgin Martyrs Leonis, Libye, and Eutropia, and their mother, who suffered in Palmyra of Syria (305).
St. Symeon, archbishop of Novgorod (1421).
Venerable Abraham, abbot, of Auvergne (477) (Gaul).
Apostles Fortunatus, Achaicus, and Stephen (Greek).
Venerable Joseph, monk, of Bethlehem (Greek).
Martyr Grace (Greek).
St. Cedronus, patriarch of Alexandria (107).
Martyr Hesychius the Soldier of Dorostolum and two others in Moesia (302).
St. Spyridon, patriarch of Serbia (1388).
All New Martyrs of Serbia.
St. Trillo, abbot of Llandrillo.
Scripture Readings
John 10:1-9
Jesus the True Shepherd
10 "Most assuredly, I say to you, he who does not enter the sheepfold by the door, but climbs up some other way, the same is a thief and a robber. 2 But he who enters by the door is the shepherd of the sheep. 3 To him the doorkeeper opens, and the sheep hear his voice; and he calls his own sheep by name and leads them out. 4 And when he brings out his own sheep, he goes before them; and the sheep follow him, for they know his voice. 5 Yet they will by no means follow a stranger, but will flee from him, for they do not know the voice of strangers." 6 Jesus used this illustration, but they did not understand the things which He spoke to them.
Jesus the Good Shepherd
7 Then Jesus said to them again, "Most assuredly, I say to you, I am the door of the sheep. 8 All who ever came before Me are thieves and robbers, but the sheep did not hear them. 9 I am the door. If anyone enters by Me, he will be saved, and will go in and out and find pasture.
Romans 7:14-8:2
14 For we know that the law is spiritual, but I am carnal, sold under sin. 15 For what I am doing, I do not understand. For what I will to do, that I do not practice; but what I hate, that I do. 16 If, then, I do what I will not to do, I agree with the law that it is good. 17 But now, it is no longer I who do it, but sin that dwells in me. 18 For I know that in me (that is, in my flesh) nothing good dwells; for to will is present with me, but how to perform what is good I do not find. 19 For the good that I will to do, I do not do; but the evil I will not to do, that I practice. 20 Now if I do what I will not to do, it is no longer I who do it, but sin that dwells in me.
21 I find then a law, that evil is present with me, the one who wills to do good. 22 For I delight in the law of God according to the inward man. 23 But I see another law in my members, warring against the law of my mind, and bringing me into captivity to the law of sin which is in my members. 24 O wretched man that I am! Who will deliver me from this body of death? 25 I thank God—through Jesus Christ our Lord!
So then, with the mind I myself serve the law of God, but with the flesh the law of sin.
Free from Indwelling Sin
8 There is therefore now no condemnation to those who are in Christ Jesus, who do not walk according to the flesh, but according to the Spirit. 2 For the law of the Spirit of life in Christ Jesus has made me free from the law of sin and death.
Matthew 10:9-15
9 Provide neither gold nor silver nor copper in your money belts, 10 nor bag for your journey, nor two tunics, nor sandals, nor staffs; for a worker is worthy of his food.
11 "Now whatever city or town you enter, inquire who in it is worthy, and stay there till you go out. 12 And when you go into a household, greet it. 13 If the household is worthy, let your peace come upon it. But if it is not worthy, let your peace return to you. 14 And whoever will not receive you nor hear your words, when you depart from that house or city, shake off the dust from your feet.15 Assuredly, I say to you, it will be more tolerable for the land of Sodom and Gomorrah in the day of judgment than for that city!
Hebrews 13:17-21
17 Obey those who rule over you, and be submissive, for they watch out for your souls, as those who must give account. Let them do so with joy and not with grief, for that would be unprofitable for you.
Prayer Requested
18 Pray for us; for we are confident that we have a good conscience, in all things desiring to live honorably. 19 But I especially urge you to do this, that I may be restored to you the sooner.
Benediction, Final Exhortation, Farewell
20 Now may the God of peace who brought up our Lord Jesus from the dead, that great Shepherd of the sheep, through the blood of the everlasting covenant, 21 make you complete in every good work to do His will, working in you what is well pleasing in His sight, through Jesus Christ, to whom be glory forever and ever. Amen.
John 10:9-16
9 I am the door. If anyone enters by Me, he will be saved, and will go in and out and find pasture. 10 The thief does not come except to steal, and to kill, and to destroy. I have come that they may have life, and that they may have it more abundantly.
11 "I am the good shepherd. The good shepherd gives His life for the sheep.12 But a hireling, he who is not the shepherd, one who does not own the sheep, sees the wolf coming and leaves the sheep and flees; and the wolf catches the sheep and scatters them. 13 The hireling flees because he is a hireling and does not care about the sheep. 14 I am the good shepherd; and I know My sheep, andam known by My own. 15 As the Father knows Me, even so I know the Father; and I lay down My life for the sheep. 16 And other sheep I have which are not of this fold; them also I must bring, and they will hear My voice; and there will be one flock and one shepherd.