The Prince of Peace is the Victorious Conqueror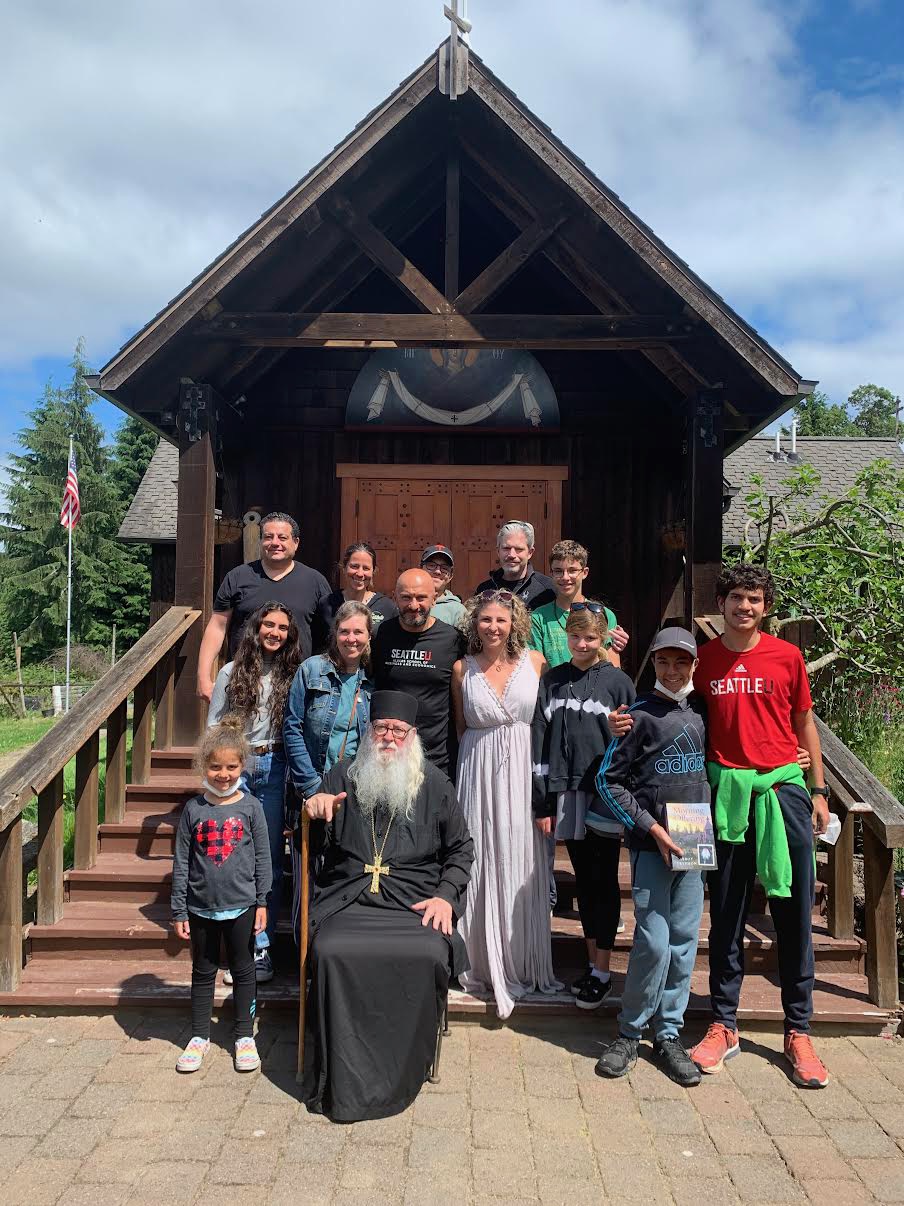 Revolutions, wars of conquest, and battles between nations, are all the sad consequences of our fallen world. Death and destruction are the results of our having fallen from grace, and giving in to personal pride and arrogance, all in the face of the God Who created us. With this fall, the Lord of Light has taken pity on us, joined His divinity to our humanity, and saved us.
Whereas other conquerors have taken their victory by violence, and for selfish reasons, Our Lord Jesus Christ came as a conqueror of the very power of death. He did not conquer for the spoils of war, but that He might give to us the results of His victory. We have the promise of life everlasting, because the Lord of the conquest has given us His victory. The Prince of Peace is the Victorious Conqueror, and His victory is our victory.
Love in Christ,
Abbot Tryphon
Photo:
These lovely Orthodox Christians visited the monastery from Orange County, CA.
Thursday June 30, 2022 / June 17, 2022
3rd Week after Pentecost. Tone one.
Apostles' (Peter & Paul) Fast. Food with Oil
Martyrs Manuel, Sabel, and Ismael of Persia (362).
New Hieromartyrs Aberkius priest and Nicander (1918).
New Hieromartyr Maximus (1934).
Virgin-Martyr Pelagia (1943).
Hieromartyr Philoneides, bishop of Kurion in Cyprus (306).
Venerables Joseph and Pior, disciples of St. Anthony the Great (4th c.).
Uncovering of the relics (1562) of the Alfanov Brothers of Novgorod (1389): Saints Nicetas, Cyril, Nicephorus, Clement, and Isaac of Novgorod, founders of the Sikolnitzki Monastery.
Venerable Ananias the Iconographer of Novgorod (1581).
Martyr Nectan of Hartland (Devon) (6th c.), and St. Botolph, abbot and confessor, of Boston (England) (680) (Celtic & British).
Martyr Isaurus, and with him Basil, Innocent, Felix, Hermes, and Peregrinus of Athens (Greek).
St. Aetius the Eunuch, enlightener of Ethiopia, baptized by the Apostle Philip (1st c.).
Martyr Shalva of Akhaltsikhe (1227) (Georgia).
St. Hypatius, abbot of monastery of Rufinianos (446).
The Scripture Readings
Romans 8:22-27
22 For we know that the whole creation groans and labors with birth pangs together until now. 23 Not only that, but we also who have the firstfruits of the Spirit, even we ourselves groan within ourselves, eagerly waiting for the adoption, the redemption of our body. 24 For we were saved in this hope, but hope that is seen is not hope; for why does one still hope for what he sees? 25 But if we hope for what we do not see, we eagerly wait for it with perseverance.
26 Likewise the Spirit also helps in our weaknesses. For we do not know what we should pray for as we ought, but the Spirit Himself makes intercession for us with groanings which cannot be uttered. 27 Now He who searches the hearts knows what the mind of the Spirit is, because He makes intercession for the saints according to the will of God.
Matthew 10:23-31
23 When they persecute you in this city, flee to another. For assuredly, I say to you, you will not have gone through the cities of Israel before the Son of Man comes.
24 "A disciple is not above his teacher, nor a servant above his master. 25 It is enough for a disciple that he be like his teacher, and a servant like his master. Ifthey have called the master of the house Beelzebub, how much more will they call those of his household! 26 Therefore do not fear them. For there is nothing covered that will not be revealed, and hidden that will not be known.
Jesus Teaches the Fear of God
27 "Whatever I tell you in the dark, speak in the light; and what you hear in the ear, preach on the housetops. 28 And do not fear those who kill the body but cannot kill the soul. But rather fear Him who is able to destroy both soul and body in hell. 29 Are not two sparrows sold for a copper coin? And not one of them falls to the ground apart from your Father's will. 30 But the very hairs of your head are all numbered. 31 Do not fear therefore; you are of more value than many sparrows.